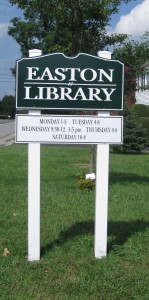 While summer went flying by, hammers and drills and saws could frequently be heard at the library!  As a result, the library computer center is sporting a whole new look and can now accommodate 5 public access computer stations.  We are presently awaiting the arrival of a new desktop computer and new task chairs.  Our carpenter will soon return to begin renovations to the public restroom.
And….in case you haven't already noticed, a brand new sign has sprung up on the front lawn.  Plans are in the works for new outside lighting as well. 
The above was accomplished with Construction Challenge Grant funds awarded to Easton Library by the Southern Adirondack Library System.