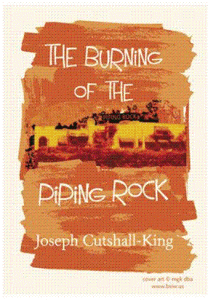 Joseph Cutshall-King will speak on Monday, December 2, at 7:00 pm at Easton Library on 1074 NYS Route 40 in Easton. The presentation will include a book reading and signing.
The Burning of The Piping Rock offers a shocking solution to the unsolved arson of the Piping Rock Casino in Saratoga Springs, New York on the night of August 16, 1954. In the novel, a dying man sits alone in July 1987, racing against his death to tape his story of how he was blackmailed into helping an arsonist burn Piping Rock Casino. Two decades later, the tapes are played for the first time by his son, who hears his father's unexpected and increasingly horrifying confession of deception, double cross and death involving the mob and New York's social elite.
The Burning of The Piping Rock is set against the backdrop of the 1949-1951 investigations of the US Senate's Kefauver Committee on organized crime in America. The Kefauver Committee targeted America's "crime hubs," which included Saratoga Springs, where high society and the underworld mingled amidst the glamour of the racetrack and illegal casinos, such as Piping Rock.
The Burning of The Piping Rock combines true local history with fictional mystery, and is Cutshall-King's first novel. The author has written several local histories and for nineteen years wrote a column on local history published weekly in the Post-Star.