THE QUAKERS EASTON FRIENDS' MEETING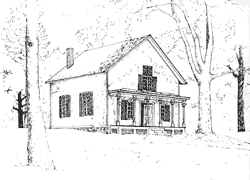 Much of Easton's history is connected with the Religious Society of Friends, also known as Quakers. That connection carries down to the present day.
The earliest Quakers settled in Easton around 1775–many of them coming from Dartmouth, Mass.
(near New Bedford) and Nantucket Island. Many were early sea captains whose livelihoods were upset by the British just prior to the Revolution, so they came inland and turned to farming the land.
The original log meeting house, located on Meeting House Road, soon gave way to the present building which was built in 1787 and is now part of the Easton Rural Cemetery. A second meeting house, on what is now State Route 40, was built in 1838. In the 1800's both meeting houses were filled on Sundays. Thus the history of Easton Friends to the present spans 225 years and contains much that is noteworthy.
On a Sunday in the late summer of 1777, just prior to the Battle of Saratoga, the original meeting house was surrounded by Burgoyne's Indian scouts. Due, in part, to the calmness and faith of Friends and the understanding of things spiritual by the Indians, the encounter was a peaceful one–a fact we continue to celebrate today at Easton Day on the 2nd Sunday of September.
Prior to the Civil War, Easton Meeting was very much involved in the Underground Railroad, helping many slaves make their escape to Canada. Both Lucretia Mott and former slave, Sojourner Truth spoke at Easton Meeting. Susan B. Anthony, crusader for women's rights, was a member of the meeting for several years.
In 1868, Easton–Saratoga Half Yearly Meeting purchased the Marshall Seminary in Easton, a school for both day and boarding students and it became the Friends' Seminary. When the building was destroyed by fire in 1873, it was rebuilt by Easton Meeting in 1874 and continued to serve the educational needs of the young until the early 1900's.
It was through the conne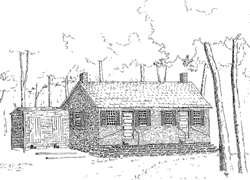 ction with the Friends' Seminary that the Easton Library came into being. The Quaker teachers at the school needed books and wanted their students to have a greater access to the literature and knowledge of the day. In 1879, with their help, the Easton Library was established and over 100 years later continues to serve the needs of the whole community.
Likewise, although much smaller in numbers, Easton Friends continue their concern for their meeting, the community, and the wider world. Both meeting houses are still in use–the North Meeting House in fall, winter and spring and the South Meeting House in summer. Worship is at 11:00 a.m.
Further information may be found at the Easton Library.